I read the preparation guide:
http://www.bleepingcomputer.com/forums/t/34773/preparation-guide-for-use-before-using-malware-removal-tools-and-requesting-help/
1. So, I have a backup.
2. I ran through the "Slow Computer" Guide:
-ran Disk Cleanup
-ran CHKDSK
-ran a windows defrag
-ran IObit smart defrag
-ran PageDefrag
-tried to eliminate superfluous processes/services/apps loading at startup
-Disabled indexing
-Disabled ctfmon.exe (hopefully)
-Removed Avira in favor of CA Internet Security (I believe Avira is the better of the two but I HATE nag screens and I'm poor.)
-Created New Restore Point.
(I never expected any of this to fix my problem but why pass up free advice to speed up my PC?)
3. & 4. have little to do with my issue
5. Activated windows firewall (non-configured, just turned the sucker on)
6. Ran DDS
Other steps I have taken is running virus scans and spyware scans, other than that i've done almost nothing.
I'm including two small screen shots. The first is of the error and the second is of iexplore.exe, I will also transcribe the error message.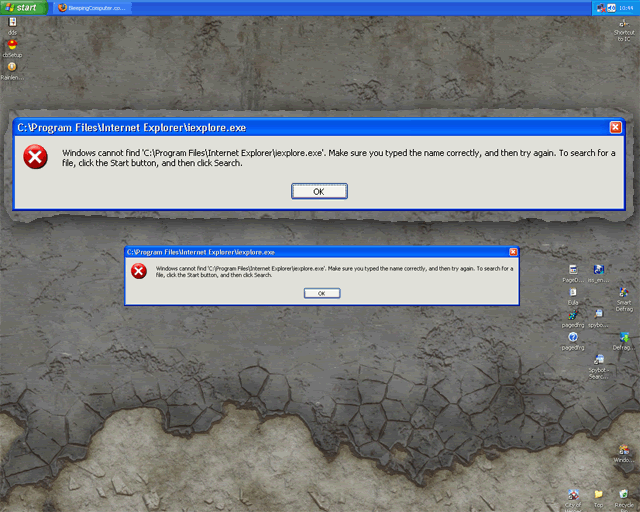 Windows cannot find 'C:\Program Files\Internet Explorer\iexplore.exe'. Make sure you typed the name correctly, and then try again. To search for a file, click the Start button, and then click Search.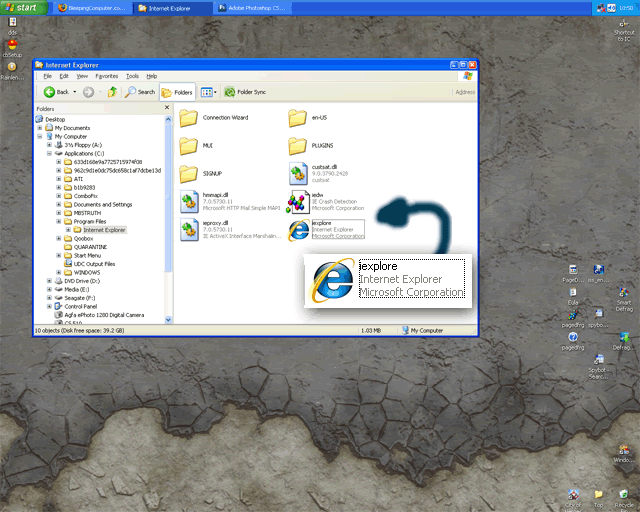 Thar' she blows!
Edited by Adrick, 17 February 2009 - 11:13 AM.