Hello, if anyone can help. My PC was actually fine, I was actually trying to save a dying external hard drive and accidentally did something stupid to my PC with a recovery program on the ultimate boot cd. I deleted a bunch of stuff by accident from my C drive and attempted to restore it. My first boot error was hal.dll, I fixed it and now it's the NTLDR is missing error.
I can't boot into Windows XP Home Edition period, I have a good bit of retore points I could use if I could just get in there. I have an HP system with a Recovery Partition, but I aslo have a slipstreamed XP Home Edition SP2 CD that I can access the recovery console through.
Before starting my own thread I read through this one:
NTLDR Missing!
And tried John's 3 command's fix and that quickly ended with this warning:
FIXMBR may damage your partition tables if you proceed.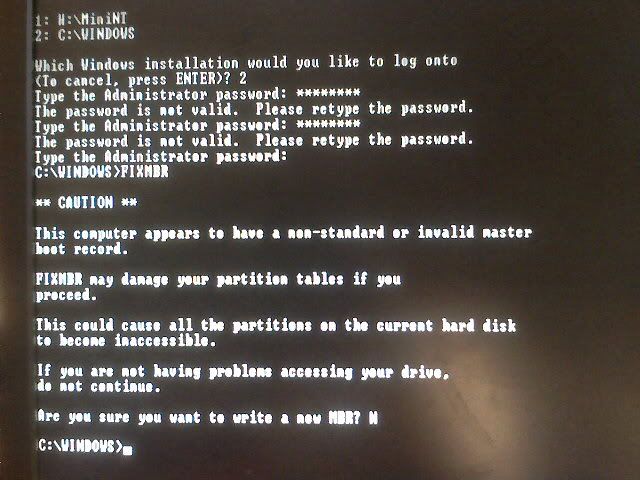 and Wassim advise so far I keep getting access denied. It won't accept my password which I know is correct. I left it blank and it seemed to accept it blank with no denial, but maybe I can't remember what the drive letter is for my cd...
Any how, that's the story. Please help. I would care about reinstalling everything if my external didn't smell like bacon everytime I plugged it in. I have its replacement now so its just a matter of quickly moving the files over via the PC I'm talking to you fellas on. Otherwise if I can't safely repair Windows, all is DOOMED, lol.