Last night around 1 or 2 in the morning, I was looking at websites like alluc.org. I searched for "onclickvideo" in google. I found the website that I was looking for and went to it. It was onclickvideos.com. Somewhere between that homepage and one page that I clicked on there, my browser started acting really weird. I was using firefox. Firefox started to crash everytime I re-opened it. Then I got a fake security center result saying that there is a Trojan detected. It gives me this button to click to "fix" the problem. When I click it, it takes me to defender-review.com and that webpage tells me to download the software. This is the only webpage that firefox will open without crashing. I have NOT downloaded that software. While that page was up, I opened a new tab and searched google to see if it was legit, which it was not. Firefox still wasn't acting right, so I did what the people in the forums I found said, which was to go to the AppData folder and go through there seeing what was created around the same time that it first started acting up. I went into safe mode and did this. When I restarted, firefox would not open at all. It tells me that there is already a window of firefox running but that it is not responding and to either close that window or restart.

I went to Task Manager, and it doesn't show anything firefox running.
This is what Task Manager showed.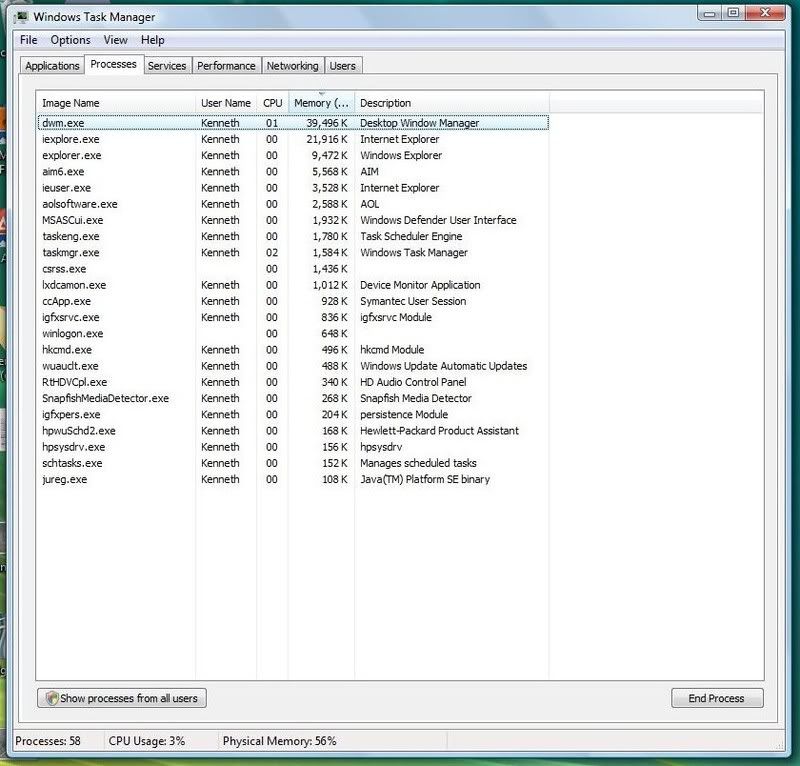 I tried to get HijackThis, but it said "Your current internet security settings do not allow this file to be downloaded." I changed all of my internet security settings to make it download, but it keeps giving me the same message, even when I turned my entire internet security off.
I have no idea what to do to try and fix this. Firefox won't even open, so I am using Internet Explorer, which I do not trust at all.
Edited by JessH, 28 December 2008 - 03:50 PM.