Ok heres the dilemma. My brother has a Toshiba laptop with WindowsXP. He's had this little rectangle window or box at the bottom of his screen for quite a while now and I just cannot find out what it is or how to get rid of it.
It is like a little window into the internet. You can see some content inside it. You can click links within it. However, you cannot X it out. You cannot resize it and you cannot right click it.
I've tried everything I know to identify it or get rid of it and I've been unsuccessful.
- Virus scans come up with nothing.
- Ad-Aware doesn't get rid of it.
- I went to "Add/Remove Programs" and couldn't identify it.
- I went to the task manager and its not in there (unless its in "Processes" and I just can't identify it).
- I looked in "Programs" and couldn't ID it.
- I did a Google search and couldn't find a cause or remedy (thats how i found this site btw).
- I've tried restoring to a previous date (all the way back to the beginning of restore points). Btw, it hasn't always been there.
So I'm hoping someone can take a look at the image below and possibly ID it or tell me how to get rid of it. The rectangle is at the bottom of the screen (it has a woman's eye looking out of it). LOL
NOTE: I'm not sure if this is relevant or not... but my brother also gets lots of full size pop-up windows while surfing the net.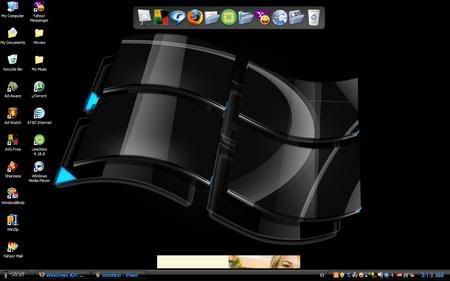 Edited by Decker, 24 December 2008 - 10:57 PM.