Ok, so at first I thought it was a simple infestation on my Windows XP computer about a month ago when it started. Firefox was beginning to have pop-ups and hijacked, so I ran Ad-Aware and AVG anti-virus 7.5 and deleted all that showed up on those. About a week later, AntiVirus pro 2009 downloaded onto my computer without me being able to stop it. I used Hijackthis and thought I got rid of the problem. The computer was running fine for about a month afterwards, until last Monday.
It all of a sudden blue-screened me and rebooted. I thought it was ok since it seemed to be starting just fine, but then after it fully loaded everything it did it again. Every time I try to load that computer up it blue-screens me and reboots, multiple times unless I boot it up into safe mode. I tried booting it up into safe mode to see what all was wrong with it, so I ran Ad-Aware and AVG 8.0 (upgraded it a week before the blue-screen started happening), and they turned up nothing. So I ran Hijackthis and it found nothing also, except that Antivirus Pro 2009 that I thought I got rid of a month ago. I tried removing it again with Hijackthis and then restarted my computer, hoping for the best. Well, it blue-screened and rebooted again, leaving me frustrated and confused. I tried to system restore it to a few months ago, but it won't even do that.
I went on my brother's computer to see if there was a solution to my problem, only to find the post on here about how to remove Antivirus Pro 2009 with a program I don't have, and can't install due to me not being able to boot up my computer into normal mode and access the internet. I'm hoping there's somehow a solution that doesn't require me to wipe my harddrive, but as things are going now it seems like that's the only option to save my computer.
I took a picture of the blue-screen message incase it'd help.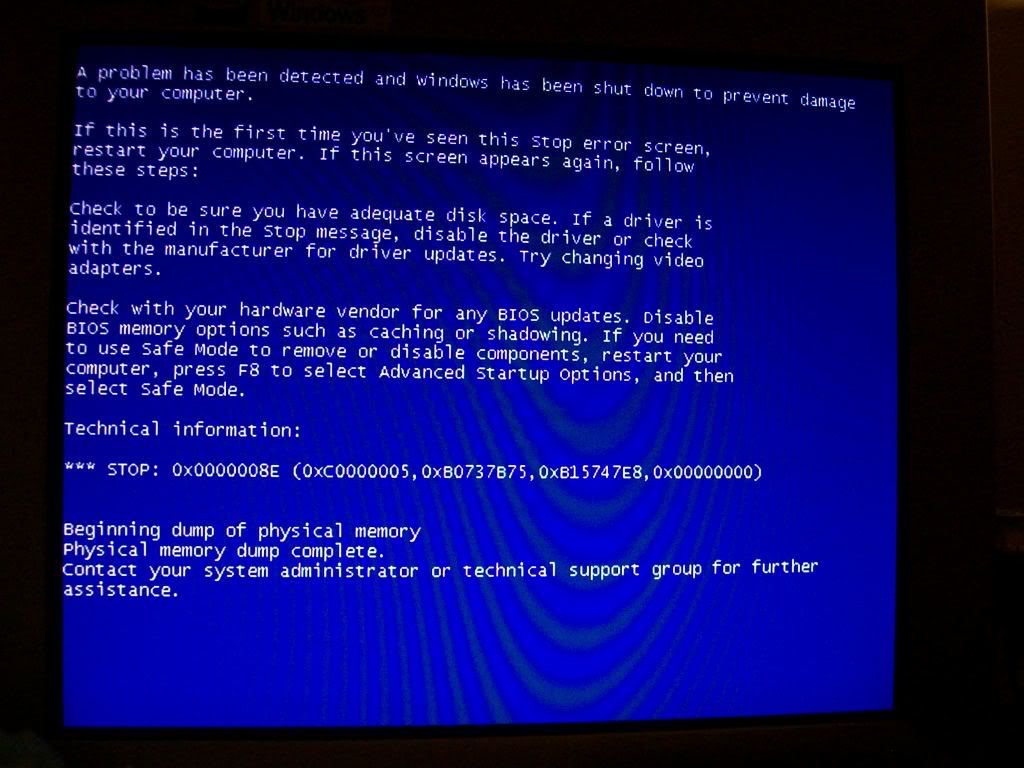 Programs I've used:
AVG Antivirus 7.5 and later, 8.0
Ad-Aware 2008
Hijackthis
Thank you for reading this, and please help!