Hey.
My names Kari and I'm having computer problems.
I don't know whats wrong with it.... The computer was working "okay" 3 months ago, and I stopped using it cause I got my own computer. Anyway I got back on one week ago and signed on to my name. All of my files were gone, and everything related to my name had pretty much vanished. if you tried opening any of the programs it was like it had never been run before. I tried programs that recovered files and they failed, so I figure my stuff is gone. Anyway... We ran a virus scan with avast... and it really didn't get anything... So I talked with my dad and he told me that he thinks he has a virus because sometimes when he opens Microsoft Outlook Express, it sends something. Also the internet is incredibly slow now. downloading is slow. Although, I'm not sure if that because we switched to wireless or if there's something wrong with our router....
when I try to open Ad-aware on my dad's name

When i try to remove files using spybot S&D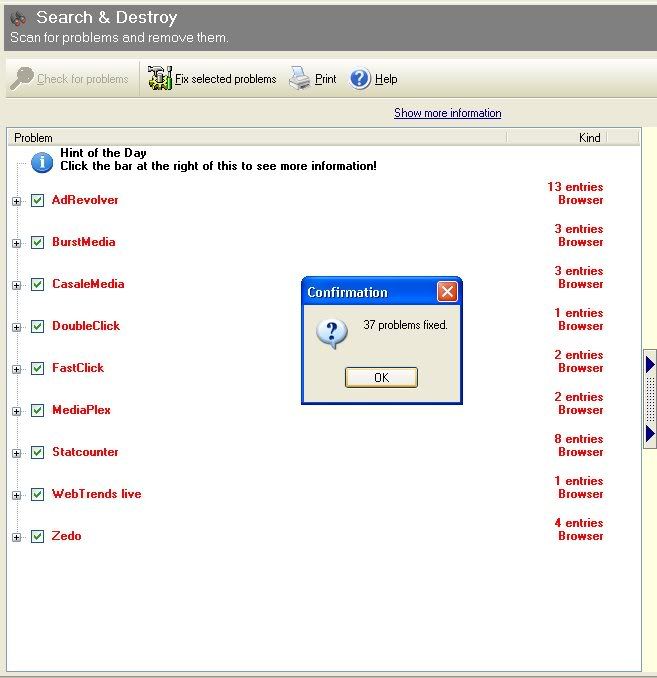 It always gets these and it never turns into big green checks like it should. You can run it again and you'll get the same entries..
I tired to go into safe mode to scan the computer and my monitor told me that my input was not supported? I don't know.
I also just downloaded and ran Malwarebyte's
it found two trojan.agent s and a RogueAscentivePreformance Whatever that is :|.
Restarted: things still don't work right.
Also I'm on Windows Xp Home edition.
Edited by Pawshii, 07 December 2008 - 10:26 PM.