Hi again, Bleepers.
Dumb question - but what exactly do incremental backups save to the backup file?
I first made a full backup of my system, and thereafter I've run a daily schedule of incremental backups.
For instance - what does the 'Day 6' incremental backup, backup? Does it take any account of the previous 4 days of incremental backups - or does it only search for new stuff that isn't on the original full backup?
Every few days I have to erase some of these files to make space, but I'm still not too sure which files I should be dumping.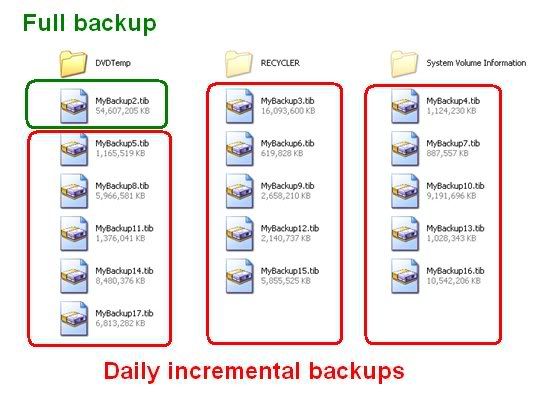 For instance - to create more space should I be deleting all the incremental daily backup files except the last one? That is, keep only the original Full backup, and the file marked MyBackup17.tb ... ?
Edited by Bone Idol, 18 October 2008 - 05:22 AM.