Ok, lets go for try number 2 with typing this cause firefox decided to crash while I was reviewing the post. First off I'm going to explain my original network layout to help explain what I need / what's wrong. Basically it looked something like this: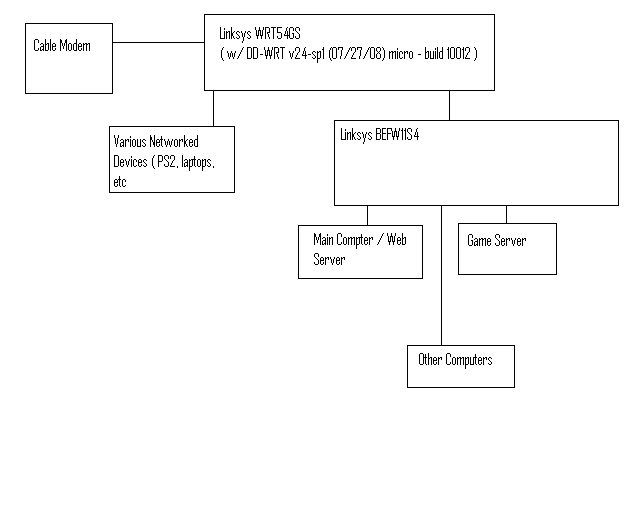 Some addition info:
- All of the IPs on the second router are static
- The Linksys WRT54GS is my wireless access point
- The Linksys BEFW11S4 has its wireless capabilities disabled
Now while this set up worked, things have changed and I needed a bit of an upgrade, basically I needed Gigabit speed at least from where the BEFW11S4 was on, and I needed addition ports there too. So I figured a switch would be my best bet, it would offer more ports and higher speeds, and what I THOUGHT would be an easier setup overall. I bought a Netgear GS108 to replace the second router so now my network looks something like this: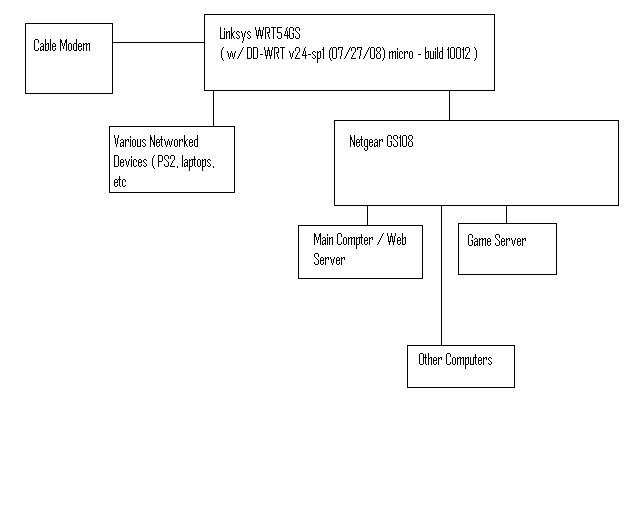 But no matter what I do with port forwarding and such, I can't see ports on the computers connected to the switch from the outside. The only way I was able to do it was by DMZing 1 computer's static IP, but that only allows 1 of the 2 necessary computers. Any help on this would be appreciated.
P.S. If you need anyother info, just say so and i'd be happy to supply it.