Hello,
I'm new here and this is the first i've joined a computer forum. I'm looking forward to resolving a possible infection issue, but let me apologize ahead of time if i'm a little slow or asking obvious questions.
Here is some background info for you (sorry if it's long, not sure what's worthwhile editing with these processes)
Since Saturday, i've noticed a new icon on my systems task bar. My partner had selected the button, which looked like an
ad that claimed to remove malware, etc. Suspiciously, I typed in the name 'VirusLab2009' and eventually found bleeping YOU. :-)
But before finding YOU, I first headed over to the uninstall programs on my computer, looking for the culprit, my attention swayed to removing old programs rarely used, laptop games, etc. So the 'cleaning' mode kicked in. I digress. Thought I could put a band-aid on the problem (oh silly me) and get rid of the taskbar icons, perhaps to not tempt my partner from clicking on random pop-ups and system alerts while i'm away. Realized I didn't want to wipe out/hide all my taskbar items with msconfig/start-up feature. But my attention diverted once again & I began to uncheck items on the start up tab that were unnecessary and things that may have slowed down my computer start-up function, ie: color pantone, java and then found an interesting items: NvCpl. I looked this up and felt guided to 'uncheck' this items as it may have been a potential link to an infection.
Anyhoo...
Before looking at your site, I downloaded several free anti-spy softwares based on credible reviews. Some suggested combinations of free programs to get at the nasty malwares (the site Stopbadware.org was very helpful, I think this is where I eventually found you).
They are:
AVG free 8.0 (found 1 infection, 1 infected object, 7 spyware found & removed)
SpywareBlaster (had a problem using this, giving me an error notice "Error Connecting to Update Server"
last, I ended up downloading:
Malwarebytes (quarantined 48 items, many with the name 'Trojan.Zlob')
I had Nortons Utility already on my computer; however, it required updating...hmmm where was I?
After using all of this, there were infections found, quarantined. Malwarebytes was the one that found the most, even after
scanning with AVG. Malwarebytes required me to reboot, but informed me that some items couldn't be removed.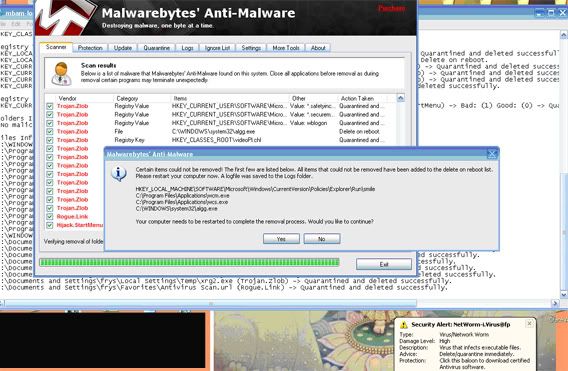 Thought I was good to go...but continued the search, since I still received 'system alert' pop-ups from my task bar & occasional
RonLiveMedia pop ups, occasional voices out of nowhere without a pop-up screen haunting, 'congratulations...'
So finally, I found you and downloaded HiJack this, per your instructions.
Since I had already had downloaded free programs and was concerned with my privacy issues going to so many free download sites, I just used the HiJack this app. This is what I found, and so I selected, 'scan this'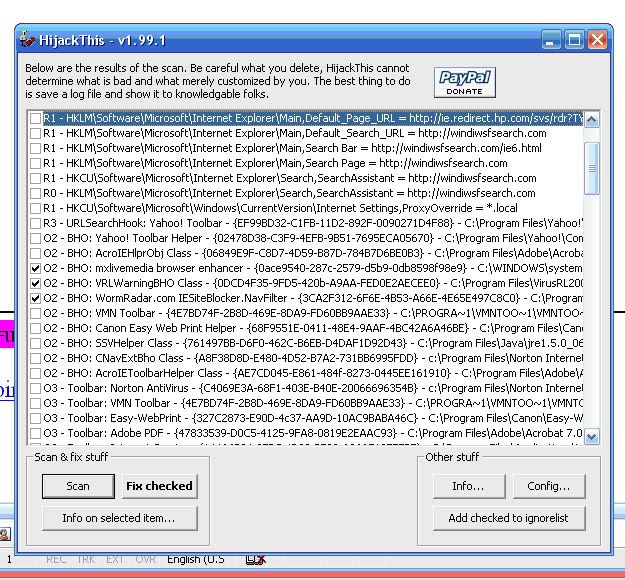 Still I had the same pop-ups, etc. So we thought that buying the best reviewed spyware product would help things.
So we picked up, 'Spydoctor'
I ran a scan, and it quarantined this:

Blocks were created, and I tightened up the secty on Firefox browser.
However, I still experienced the same behavior & HiJack continuously picked up the mxlivemedia process.
And just yesterday, my computer began to freeze and I was unable to use the ctrl,alt delete function to reboot.
This happened at least 6 times in attempt to reboot. At this point, I was finally frustrated with my *%$ bleepingcomputer!
And now i'm looking for help. Please help. Thank you.
Here are my specific concerns:
1. Am I so far beyond getting this infection off my computer? If so, what are my options? A new computer?
2. If not, please help and let me know what steps to take to make my computer a no-viral infection/pop-up, freeze, slow start-up zone.
3. Can I remove the Icon that originates the 'systems alert' pop-up on the taskbar so that others using this computer aren't tempted to 'click' unaware?
Let me know what I can provide you to help.
Thank you so much!!
Best to you.
-R