Hello,
I have a desktop computer which I replaced with a laptop. The desktop had a 500gb SATA disk which had one primary partition (system) and one extended partition divided into several logical drives. I dual-booted Vista and Linux Ubuntu.
Now the 500gb SATA disk is connected as an external HDD (inside an eSATA box) to my laptop.
I want to have the 500gb disk contain only one storage partition and nothing else. I have already moved most of the files I want to keep to one of the logical drives I had on the extended partition. Using Vista Disk Management on the laptop, I have deleted the primary partition of the external disk as well as all except two of the logical drives, including the Ubuntu partitions. (One of the remaining logical drives has stuff I want to keep but doesn't fit to the other logical drive, which is why I haven't yet deleted it.)
Here is a picture of what it looks like in Disk Management: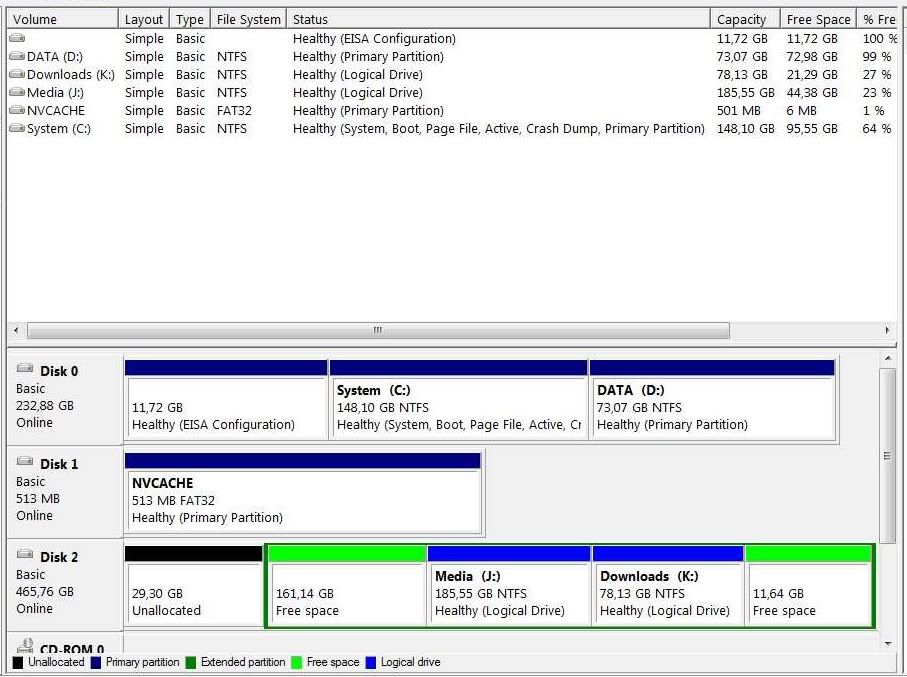 In the picture, Disks 0 and 1 are inside the laptop and were preconfigured as shown in the pic. Disk 2 is the 500gb external disk.
Now, if I try to use Disk Management to extend the logical drive (J:) to contain all the space available, first I get a notice saying that the selected basic disk will be converted to a dynamic disk. Now I don't know why it would be converted to a dynamic disk, but when click "Yes" upon being asked whether I'm sure I want to continue, I get this error message:
Disk Management says:
The attempted operation is invalid. Either the parameters specified are invalid or the operation cannot be completed on the selected object. Refer to Disk Management help for assistance on to correct use of the attempted operation.
Referring to Disk Management help was of no use, so I'll refer to here instead. How do you suggest I continue here? What do I have to do to make the external drive contain only one storage partition to act as a storage drive for my laptop? Do I have to backup everything on the disk to another disk, wipe the disk clean and then reformat it, or can I just extend a partition?
Thanks.