Please help me!!!
I'm a software guy so I have some idea how to fix a PC.
My IE7 goes to a bogus .mht file in my system32 folder called spywarewarning.mht
C:\WINDOWS\System32\spywarewarning.mht
It looks like a fake XP Security Center window.
Also getting a Critical System Warning every few seconds, I have to CAD the proccess called adsnwz.exe to make it stop.
The text in the Critical System Warning reads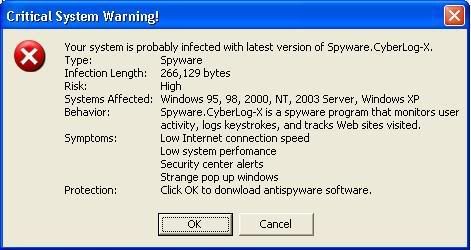 Took the image from another website.
I used Ad-Aware, Spybot, SmitfraudFix, and Symantic AV with zero success.
Please help me!!!!
SteveKaz99
XP MediaCenter Ed. at SP 2[/size]