Ok im having a problem,
Ive been downloading a couple of programs (will not go into details here) and i have picked up a few "free riders".
Last night i switch on my PC and it started going nuts with pop-ups and SpyBot was going mental with notifications, i turned it straight back off, booted into safemode and run Spybot and Windows Defender separetly to clean my system.
Windows Defender found 3Trojans, which where:
--- Trojan:win32/agent (x2)
--- Backdoor:win32/Rbot
I removed these and also searched for the infected files to make sure they where gone, then i deleted the items from quaretine.
Logging back into windows normally Spybot started with all the notification pop-ups again, no IE webpages this time tho.
The notifications are the same two over and over again and i cannot get these to stop:
They are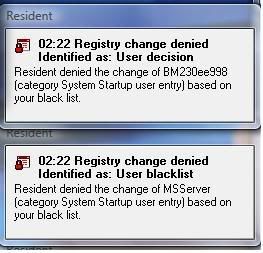 I have no idea if im still infected and if i arnt, how do i get rid of these notifications

PC Specs
Windows Vista Home Premium 32-bit
Dual Core CPU 1.8Ghz
Foxconn CMX45 Motherboard
1Gb DDRII Ram
PS - before anyone says anything i know its my own fault i have been infected and lessons will be learnt eventually
Many Thanks!
Edited by Emu1616, 21 May 2008 - 12:15 PM.