I have a 500 GB USB disk partitioned into 3 drives. They are labelled F:, G: and H:, but in "My Computer", I can see only F: and H:.
Below is a picture of the Disk Management window.
The first partition of USB disk 'Disk 1' should be "Multimedia, Downloads (G: )" but now it has no drive letter displayed. When I right click on that partition, Disk Management displays merely "Help", there are no other options like "Change Drive Letter and Paths" or "Properties".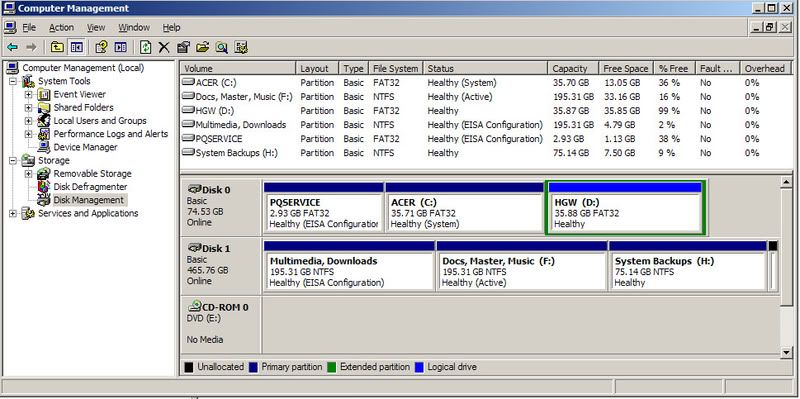 I have an identical drive which I use as a backup of the first one and is not normally connected to the system. When I connect it and power it up, the Disk Management window is as shown below.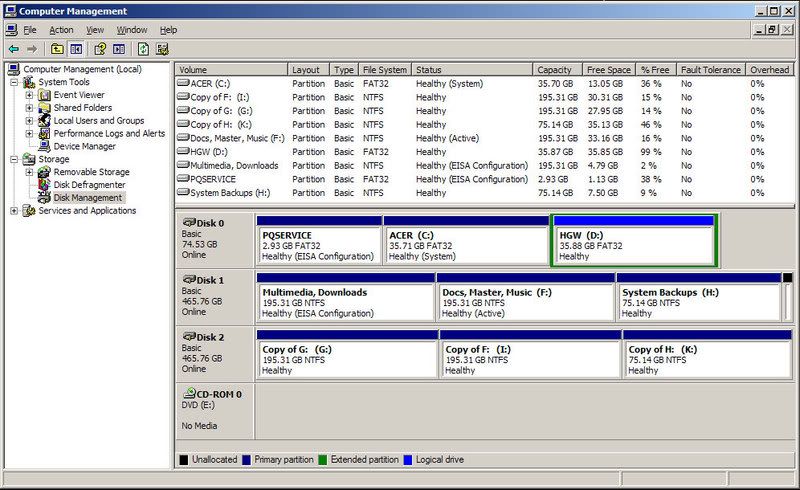 It looks like the drive that should be drive J: (the first partition of USB disk 'Disk 2'), is given the drive letter "G:". Normally, this drive is labelled "Copy of G: (J: )".
I note that the drive missing from "My Computer" (the drive labelled "Multimedia, Downloads") is indicated as "EISA Configuration". I don't know what this means, but I don't think it should be there.
So does anyone know what I can do to get this partition and drive accessible to Windows? Any help gratefully received as I have a lot of personal photographs on that drive that I have not yet backed up.
Edited by RDN, 13 May 2008 - 07:45 AM.