I'm guessing the two problems are related since they happen at the same time usually.
Lately, random pieces of text in Mozilla have been vanishing. It'll be invisible basically. Sometimes it can be corrected by opening the source code. Sometimes the text in there also vanishes or changes to a weird font. Every now and then text in other programs will disappear or icon names will disappear. But mostly it's in Mozilla. I have the latest version it updated to, if that matters.
Also, sometimes when the above happens, it also becomes impossible to use other programs. A window will appear giving an error of some sort, usualy that there isn't enough memory or resources or something. I haven't been able to screenshot it because I can't get into MSPaint, which itself sometimes has errors and "must be closed".
I'm guessing it's a worm or virus or something, but PC-cilin didn't detect anything in a scan a few days ago. The only thing I got was the following window popping up during the scan twice: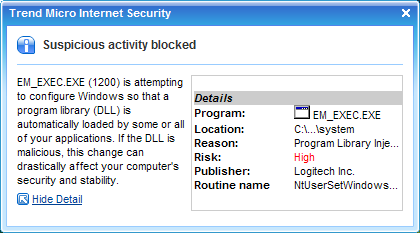 I'm running XP on a Presario V2000. I don't know anything else like RAM or processor.