It's only been happening recently, I'll be on my computer, surfing, talking ,whatever. And everythings fine. I'll decide to boot up Counter Strike or any game, then when it's about to go in the game, BAM, Direct 3D error or something undesirable in the game. I thought maybe it was just Counter Strike. Oblivion's completly screwey and full of artifacts as well in other games.
Only games that actually require some juice do this. But only when my power supply I think is hot.
What I'm thinking is, is that my power supply can't handle the my X1950 pro's demand for power once an intensive game starts when my power supply is overheating. That's the only logical problem I could think of since my card itself is good around 45C idle, 56C full load. I can't give an accurate temp for the power supply but by judging with my trusty ole' hand, I'd say close to 60C when it's not working properly.
Today when it wasn't working properly I pulled off the side panel, opened my window ( I live in Canada, k. That thing will freeze solid in minute!), fanned it off with a mouse pad ( I'm a improvisor! ) and it worked like a charm! So could a 600Watt PSU not produce enough juice for my rather not power hungry computer even when it's fairly hot.
Ventilation's a problem with it to, I don't have the biggest case, but everything fits in snugly.
I'd be happy if anyone could help or come up with a different reason. I took a screenshot so you know what I'm looking at, No laughing at my wiring job, there's like 40 feet of extra cables and the top 80mm fan for the PSU is cluddered.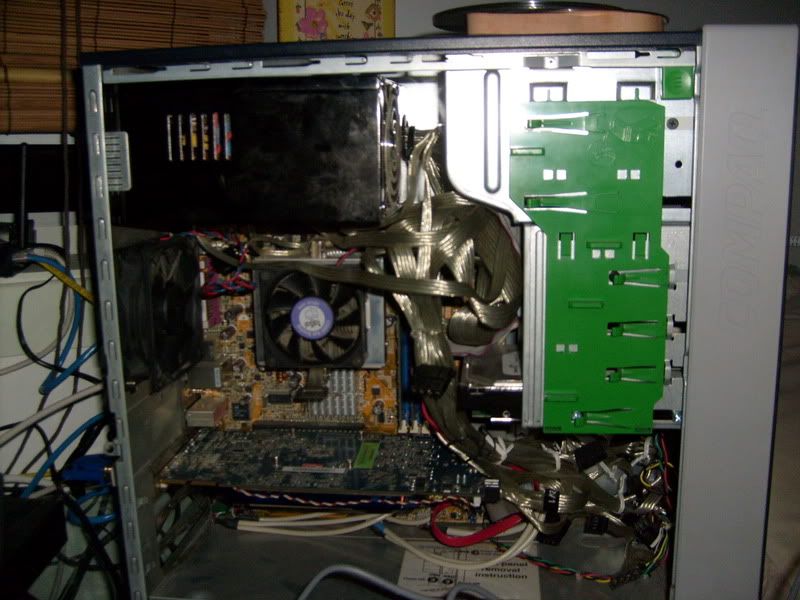 AMD Athlon +3500 2.2Ghz
1Gb DDR (512x2)
Asus Amerbine Mobo
Saphire X1950 Pro
X-Finnity 600-Watt PSU.