I don't know what I'd do without this little gem. Probably the same thing, but not as happy.
The extension in question is called
LinkAlert
.
All it does is add a little icon next to your mouse pointer whenever you mouse over a link in FF. The icon represents what type of link it is. For example, it shows a little PDF icon when the link leads to a PDF, a little javascript icon if the link is calling javascript, another icon if the link will open a new window, and a couple of others.
Here's what the icons look like: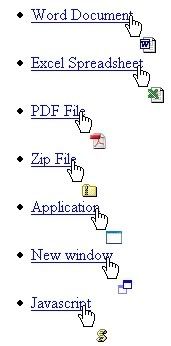 The latest version also supports:
.torrent files
image files
Moxilla Extensions (XPI files)
Music Files
Regedit (.reg) files
text files
video files
AIM links (AOL Instant Messenger
E-mail links
FTP links
secure (https) links
internal links
external links
RSS links
plus you can add custom link types.
Edited by Amazing Andrew, 18 November 2007 - 09:57 PM.