Ok lets get it from the start!
My laptop is Acer Aspire Series 5100, my OS is XP SP2 -- ATI RADEON 1100 -- AMD TURION 64 -- DIRECT X 9c -- REALTEK HIGH DEF. AUDIO
My camera is Orbicam, also built-in.
I had big problems adjusting its properties like exposure etc, usually via Skype, but no Skype anymore, so no more adjustments!
So i decided to go hunting the web and find a good program free, or to purchase, so to i can adjust it.
First thing I did, was to go to the Acer Site!
I chose Drivers/Utilities and then my model.
I have found 4 diffirent software -- 2 of them were drivers, 2 of them were utility.
Like a smart (?) user, I saw the "Orbicam Software" Only for ORBICAMS like mine, and especially for my model.
I installed it. I chose "drivers & software" install. And then, In the step 4, it says that it have detected my camera, I actually SEE myself in it --which means it works -- and I press DONE in my installer.
When I start the program, I face this :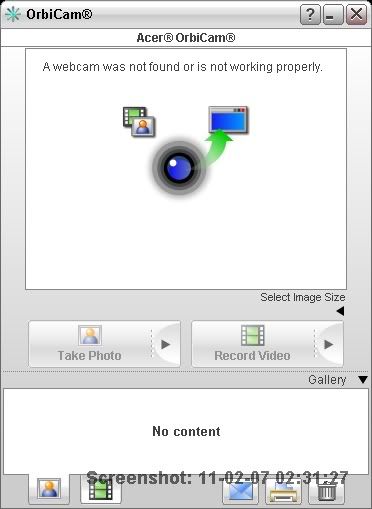 WHYYYYY lol i dont get it!!!
So plz if u cant help me with the Orbicam Software, plz suggest me programs for built-in webcams for only adjusting... I am furious i ve tried the software a hundred times....
Your help is valuable, everytime i have a problem u always try to help me guys, u have my thanx in advance!