So I administer a small computer lab (3 computers) for a local group here in San Francisco. They're not far away, but I don't like to go outside (the sun... it blinds me!!). For various reasons, I decided to switch the computers over from various old versions of Windows (2000, 98, and ME) to a Linux dist. These are old computers and could not handle a newer version of Windows nor could the group afford to buy new lisences. So I switched 'em over to Ubuntu 6.10. They work great!
But it was a pain to administer them remotely. I would start up VMware on my WIndows box here at home and load Ubuntu as a virtual machine just to use the Terminal to use SSH. Way too much involved for using the command line if you ask me.
So, I Googled a bit and found
Cygwin/X
. Cygwin/X is a port of the X Window System to Win32, so theoretically, you can run Linux-designed programs in Windows (not natively, they need to be recompiled especially for this). I don't need all that. I just want a bash terminal in Windows, and I got it: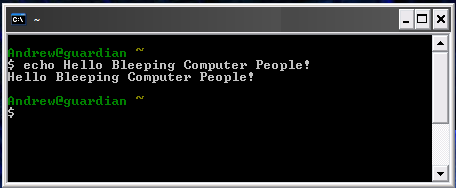 So, now I can run any bash command on these machines remotely from my Windows machine!