Well I have three big problmes & I was wondering if anyone could help
I have a XP Service Pack 2
I registered to this site about 2 months ago to clean my PC & it worked, it got rid of a lot of spyware & trojans. Thing is I'm still having problems with my PC even though I'm certain I am clean of those problems.
Ok here goes
Problem # 1) Sound issues:
For some strange reason, my sound is being disabled almost every day!
I'm listening to some music & come back to my a few hours later & find out that sound no longer works on my PC.
This is what happens when I try to access the Sound controls for my PC:
Well I had this happen to me once or twice before, but this only happend like once in a year.
Now my sound is dropping off EVERY DAY (Twice some days)
To fix the problem I go here:
I select the drivers for that & roll back drivers & than update drivers, after that everything works perfectly fine.
Until the next day where it starts all over again!
What is happening?
Problem #2) Connections issues:
My connection is now dropping off almost every day. I have Charter Cable & I called the company to see if they were having any problems & they gave me the the B.S. everything looks to fine from their part.
Here is what happens, I'm online & all of a sudden nothing connects!
Clicking on the local area connection icon in the taskbar & trying the repair option just tells me this: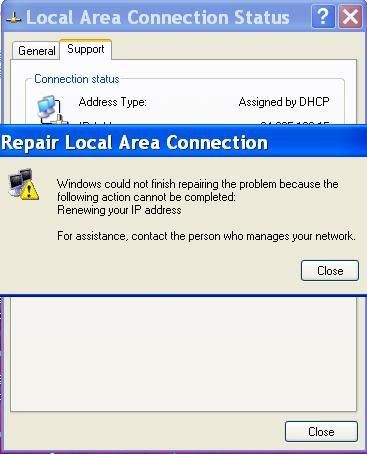 Here is where the problem seems to be, even though I get no connection, the icons shows that I'm still being connected.
When I disconnect my ethernet cable from my PC, the icon still shows as if I'm still connected (like it didn't even recognize the cable being unplugged, which it normally does) like this:
The only way to get back online, is to disconnect my ethernet cable from my PC AND reboot my PC, which gets my connection back perfectly. Doing either rebooting or disconnecting the cable alone will not work in getting my connection back.
Now when I disconnect my ethernet cable from my PC when my connection is working perfectly , the icons does show that the cable has been unplugged like this:
Yet when my connection drops later on in teh day, that pop-up will never appear if I unplug my cable for some strange reason.
Problem #3) Display issues
When I reboot my PC & about 15-25 minutes in, out of nowhere my displays (browsers, programs & fonts) will change style for a split second before reverting back to normal.
This happened out of nowhere & now is happening every time I boot my PC. I don't know how to stop it or what is causing it.
I also have a feeling that this problem might be releated to the previous two problems some how.
Here is what my normal browser looks like when I first start it:
About 15 minutes in, all of a sudden it changes into something completely different, which I was able to capture:
This happened to Miscrosoft Paint too, so it does not only affect the browser.
This only happens for a split second before reverting back to normal with only some icons being rearranged like this:
Does ANYONE know what this is? ANY clue? I'm desperate here.
I have been asking around for some time & absolutely no one knows anything, this is probably my last hope here.