Hi
The coming price drop on Intel CPUs is coming soon and as I am planning on building a new system I would like to understand it. So far I am going by the following outline which seems reasonable and reliable: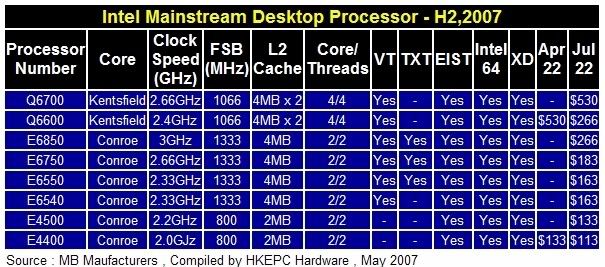 I'm looking at building a pretty high-end system that's a little future-proof with room for upgrades down the line. On the list I'm looking at the Q6600 and E6850 both priced similarly (whatever it will be in pounds I would appreciate information if anyone has it).
Obviously normally the quad-core would outstrip the dual-core as it can perform more tasks at the same time - this is my understanding. However in this case the E6850 has a higher clock speed and FSB but the Q6600 has 4 cores and a higher L2 cache.
There's something to do with DDR3 here as well I read somewhere and the Q6600 also doesnt have TXT (don't know what this is) so its a bit confusing. Can someone explain all this to me please, theoretically or direct me to a site with stats - all appreciated.
Thanks in advance.
Edited by benny269, 19 July 2007 - 07:10 PM.