When it comes to the field of information security, the main goal is to protect consumers, businesses, and government entities from online threats and malware. As it is such fast moving field, new information is being discovered daily and it is important for this information to be disseminated quickly. Due to this, there tends to be a high level of information sharing where members of the InfoSec community provide insight into their own experiences in order to help others in similar situations.
A lot of this information sharing occurs on Twitter and blogs, but unfortunately these methods are not always the most efficient way to disseminate information that may be to sensitive or that needs to be spread quickly. With this in mind, security researchers Stuart Peck and David decided to create a group called The Many Hats Club where like minded people can share InfoSec information, build connections, and get to know each other.
"I started The Many Hats Club (TMHC) with my co-owner David (@buydogs), because we wanted to offer the infosec community a place where they share ideas, learn, build new connections, and have conversations that maybe they couldn't on say Twitter. We actually came up with the idea whilst we were both on a Twitter thread discussing Steak and Infosec, shortly after we ran a poll to gauge interest, the response we received was overwhelming that 24 hours later our Discord was born." - Peck
The Many Hats Club consists of a web site and a Discord server. The web site contains an archive of live talks and presentations given by members on the group's Discord server. These talks cover subjects that include social engineering, ransomware, cryptocurrency, domain defense, and patch management. Many of these talks are given by well known and respected members of the InfoSec community.
There are also numerous channels on the Discord server where members of the community can get to know each other, share information, and analyze new malware and attacks.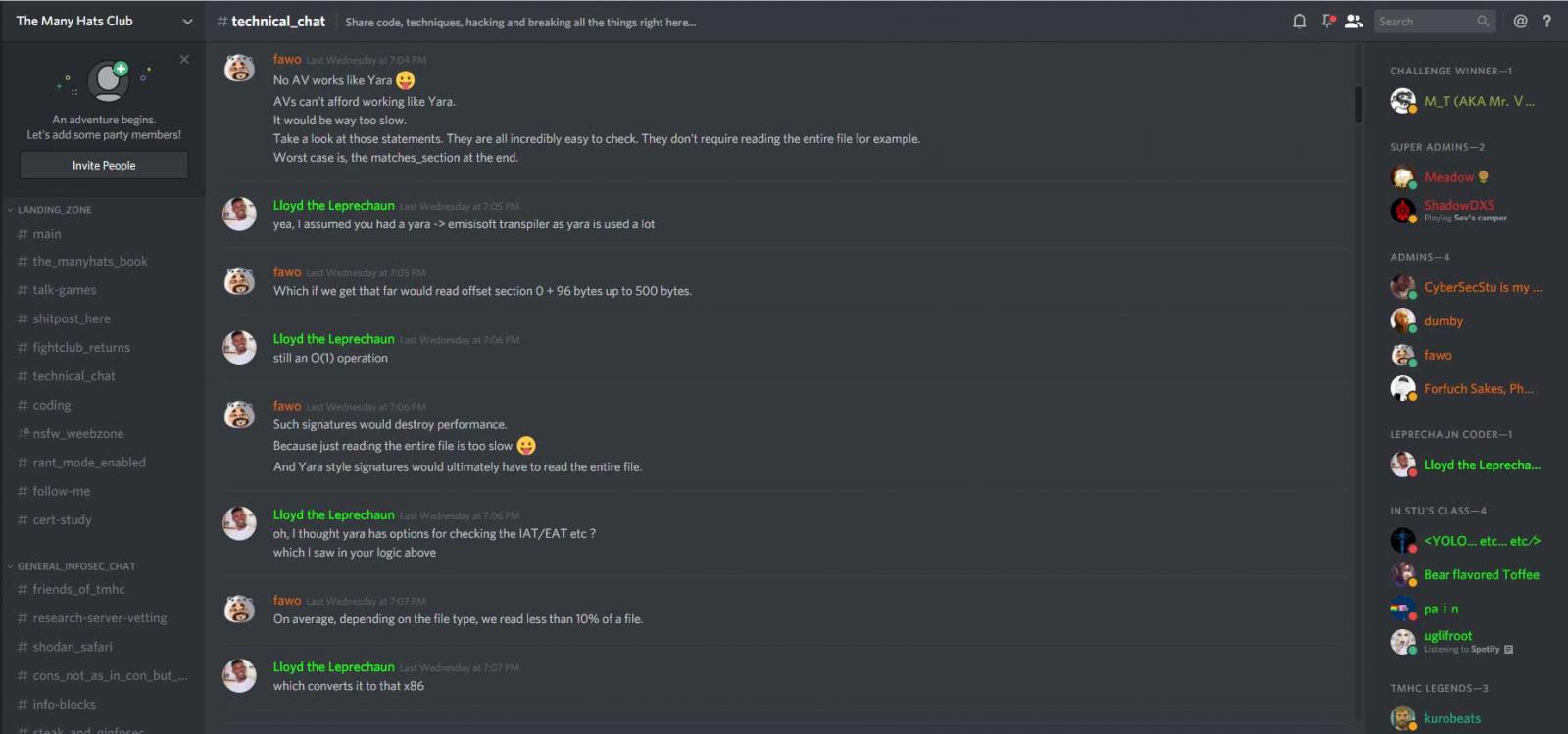 Since being created, the club has grown to almost 700 members and includes people from all backgrounds such as Red & Blue Teams, Malware Reverse Engineers, Social Engineers, security software developers, and students.
Peck also told BleepingComputer that you do not have to be an expert to join the club and that people of all experience levels are welcome. The only requirement is that you follow the code of conduct, treat the other members respectfully, and have a interest in information security. To join the group, you can visit this page, which contains a link to their discord server.
What do you get out of being a member? A lot of InfoSec goodness. According to Peck, "In addition to the main community server which has over 20 channels covering everything Blue and Red team related, we have a dedicated research server. The research server offers the opportunity to contribute (and be credited), to quarterly research projects that will be released publicly under the TMHC banner."
Perhaps the best part of The Many Hats Club is the huge amount of combined real life security experience and knowledge that is represented by this group. When you have so much creative and passionate talent congregated in one place, interesting things tend to happen.
Peck said it best when he told BleepingComputer "This idea formed as part of a thread on Twitter last year, has become a thriving community, with people active from all over the globe. When you bring great people together only even greater things can happen!"
So if you are interested in information security and are an expert or just starting out, The Many Hats Club has something to offer to everyone. I hope to see you there and if you stop by, don't forget to say hello!