WinCleaner 2009 is a rogue anti-malware software from the same developers as Win Antivirus Vista/XP and ASC-AntiSpyware. This particular rogue uses false advertising, exaggerated results, and Trojans to promote itself. The engine behind WinCleaner 2009 is the open source security engine called ClamWin. ClamWin is a legitimate anti-malware engine that allows developers to integrate anti-malware technology into their products. This basically allows anyone to create their own anti-malware program using the ClamWin engine and it's malware definitions. WinCleaner, though, takes it a step forward and made it so WinCleaner will also displays legitimate Windows programs as infections. To make matters worse, this program also utilizes Trojans that will display fake alerts on your computer's desktop that try to convince you that you are infected.
When WinCleaner is installed it will be configured to automatically start when you turn on your computer. Once started it will scan your computer and display a variety of infections, but not the infected file names, which cannot be removed unless you first purchase the software. It will then display another screen that shows a list of known Windows programs and state that they are all infected. In reality, though, none of these files are infected, but are only being shown to scare you into purchasing their software.
Please disregard any warnings this program may display. Instead use the free removal guide below to remove WinCleaner 2009 and any related malware.
WinCleaner 2009 Removal Options
Self Help Guide
This guide is intended for advanced computer users only. Please ensure your data is backed up before proceeding. If you are uncomfortable making changes to your computer or following these stpes, do not worry! Instead you can get free one-on-one help by asking in the
forums
.
This removal guide may appear overwhelming due to the amount of the steps and numerous programs that will be used. It was only written this way to provide clear, detailed, and easy to understand instructions that anyone can use to remove this infection for free. Before using this guide, we suggest that you read it once and download all necessary tools to your desktop. After doing so, please print this page as you may need to close your browser window or reboot your computer.
To terminate any programs that may interfere with the removal process we must first download the Rkill program. Rkill will search your computer for active malware infections and attempt to terminate them so that they wont interfere with the removal process. To do this, please download RKill to your desktop from the following link.

Rkill
When at the download page, click on the Download Now button labeled iExplore.exe. When you are prompted where to save it, please save it on your desktop.
Once it is downloaded, double-click on the iExplore.exe icon in order to automatically attempt to stop any processes associated with WinCleaner 2009 and other malware. Please be patient while the program looks for various malware programs and ends them. When it has finished, the black window will automatically close and a log file will open. Please review the log file and then close so you can continue with the next step. If you have problems running RKill, you can download the other renamed versions of RKill from the rkill download page. All of the files are renamed copies of RKill, which you can try instead. Please note that the download page will open in a new browser window or tab.
Do not reboot your computer after running RKill as the malware programs will start again.
At this point you should download Malwarebytes Anti-Malware, or MBAM, to scan your computer for any any infections or adware that may be present. Please download Malwarebytes from the following location and save it to your desktop:

Malwarebytes Anti-Malware
Once downloaded, close all programs and Windows on your computer, including this one.
Double-click on the icon on your desktop named mbam-setup-bc.1878-2.2.1.1043.exe. This will start the installation of MBAM onto your computer.
When the installation begins, keep following the prompts in order to continue with the installation process. Do not make any changes to default settings and when the program has finished installing, make sure you leave Launch Malwarebytes Anti-Malware checked. Then click on the Finish button. If MalwareBytes prompts you to reboot, please do not do so.
MBAM will now start and you will be at the main screen as shown below.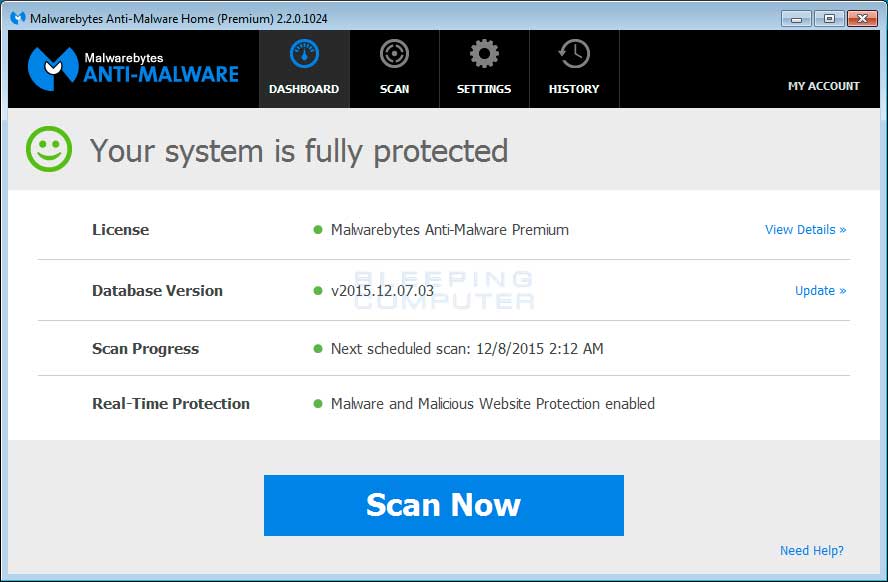 We now need to enable rootkit scanning to detect the largest amount of malware that is possible with MalwareBytes. To do this, click on the Settings section at the top of the MalwareBytes application and you wil be brought to the general settings section.
Now click on the Detection and Protection settings category on the left sidebar. You will now be shown the settings MalwareBytes will use when scanning your computer.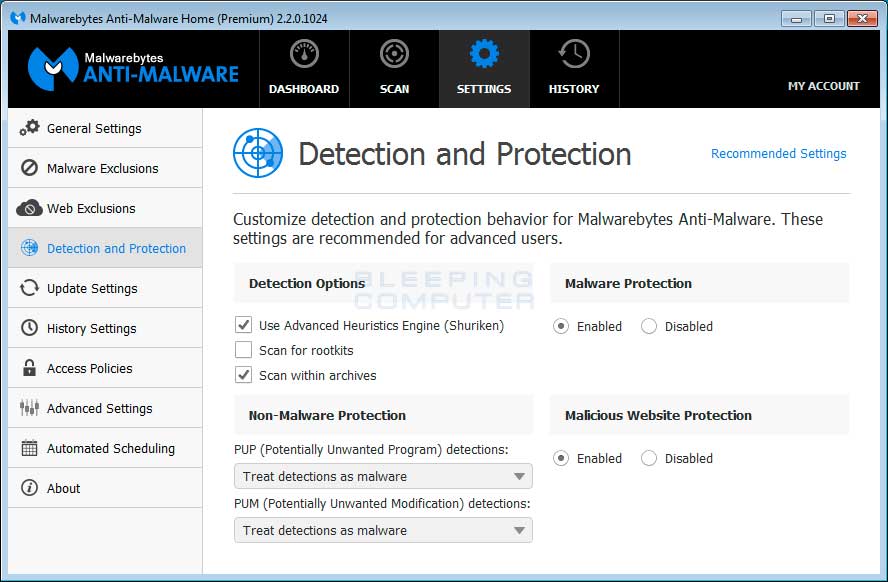 At this screen, please put a checkmark in the option labaled Scan for rootkits. If you do not see this option, please make sure you are using the latest version of MalwareBytes.
Now that you have enabled rootkit scanning, click on the Scan button to go to the scan screen.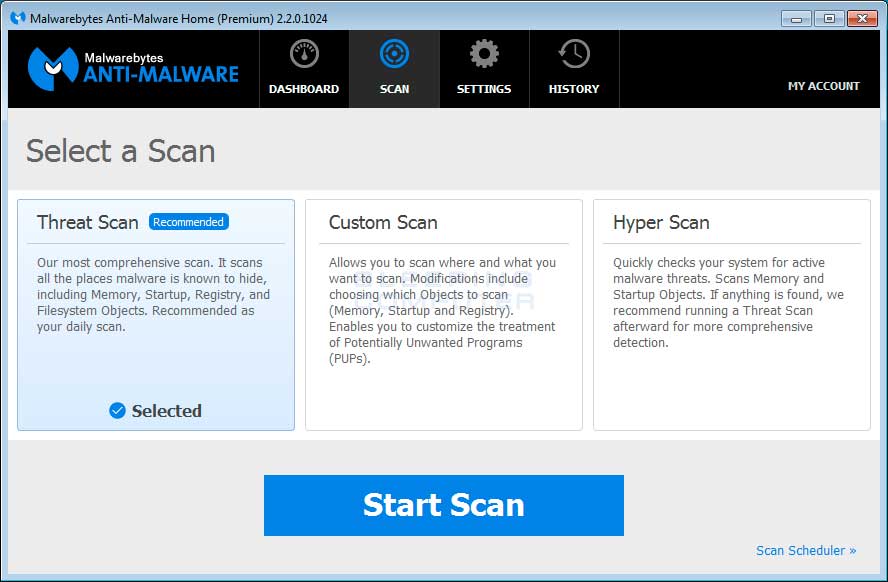 Make sure Threat ScanStart Scan button. If there is an update available for Malwarebytes it will automatically download and install it before performing the scan.
MBAM will now start scanning your computer for malware. This process can take quite a while, so we suggest you do something else and periodically check on the status of the scan to see when it is finished.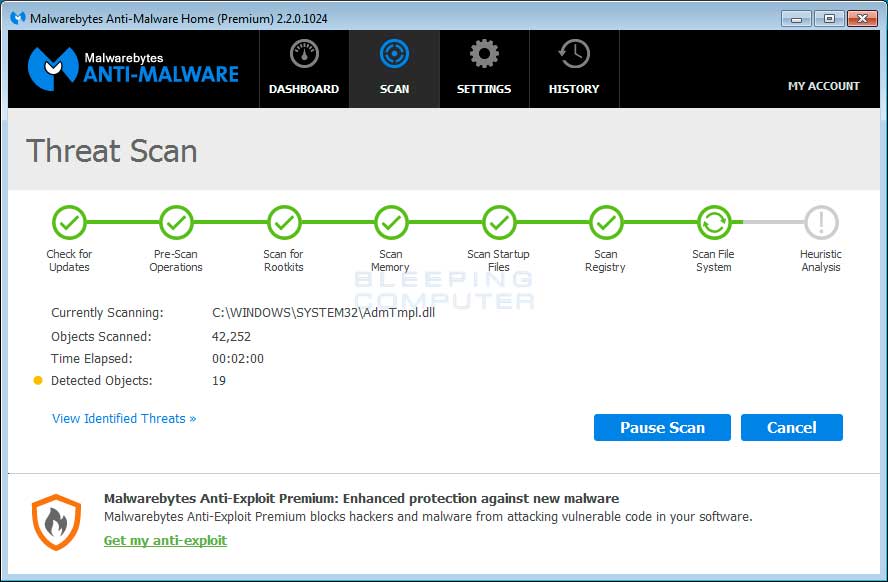 When MBAM is finished scanning it will display a screen that displays any malware that it has detected. Please note that the infections found may be different than what is shown in the image below due to the guide being updated for newer versions of MBAM.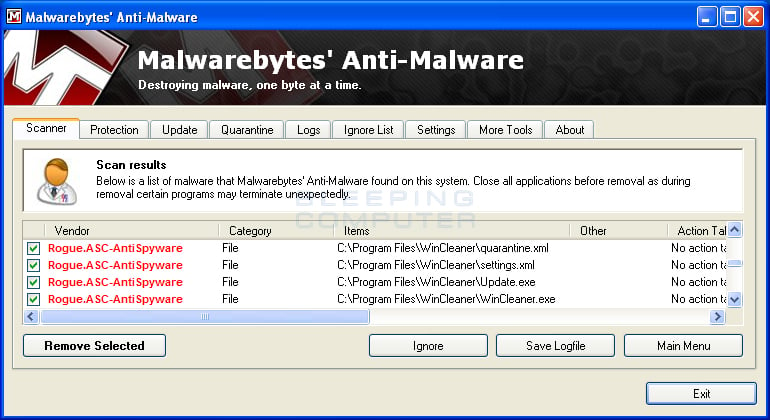 You should now click on the Remove Selected button to remove all the seleted malware. MBAM will now delete all of the files and registry keys and add them to the programs quarantine. When removing the files, MBAM may require a reboot in order to remove some of them. If it displays a message stating that it needs to reboot, please allow it to do so. Once your computer has rebooted, and you are logged in, please continue with the rest of the steps.
You can now exit the MBAM program.
Your computer should now be free of the WinCleaner 2009 program. If your current security solution allowed this program on your computer, you may want to consider purchasing the full-featured version of Malwarebytes Anti-Malware to protect against these types of threats in the future.
If you are still having problems with your computer after completing these instructions, then please follow the steps outlined in the topic link ed below:
Preparation Guide For Use Before Using Malware Removal Tools and Requesting Help

Malwarebytes Anti-Malware
Purchase the full-featured version of Malwarebytes Anti-Malware, which includes real-time protection, scheduled scanning, and website filtering, to protect yourself against these types of threats in the future!