PcsSecure is a rogue anti-spyware program from the Wini family of malware. This rogue is promoted and installed through the use of Trojans that pretend to be programs necessary to view certain online videos. When you download and install this Trojan it will install the rogue and configure it to start automatically when your computer starts. This same Trojan will also create fake malware files on your computer with random filenames that are then detected as viruses when PcsSecure scans your computer. The program, though, will state that it will not remove these files until you first purchase it. This is obviously a scam as the program is only detecting the files it created in the first place. In reality, these files are harmless and do not pose any risk to your computer. Thus this programs scan results should be ignored.
Please note, this variant of Wini rogues has been bundling a rootkit infection called TDL3. Therefore, though MalwareByte's may remove the rogue infection, you may still have problems with pop-ups or redirections when you click on search engine results. If this type of behavior is occurring on your computer you should also follow the steps in this guide: How to remove the TDSS, TDL3, or Alureon rootkit using TDSSKiller.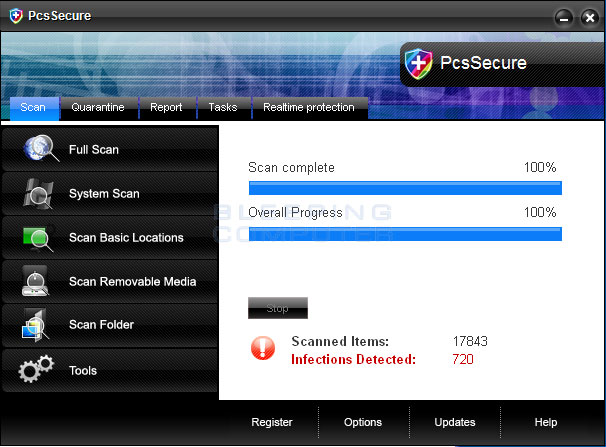 PcsSecure screen shot
For more screen shots of this infection click on the image above.
There are a total of 4 images you can view.
The Trojan that installed PcsSecure will also display fake security alerts and messages on your desktop. These alerts will state that active malware has been found, that your being attacked by a remote computer, or that you are sending sensitive data to a remote location. The titles of these alerts will be Spyware Alert!, Infiltration Alert!, or Security Center Alert!. The current text of one of the alerts is:
German Alert:
Spzprogramm Warnzeichen!
Ihr Computer ist mit Spionprogramm infektioniert. Das kann Ihren Dateien und die im Internet zugänglich machen. Klicken bitte hier, um Ihre Kopie von PcsSecure zu registrieren und Ihr PC von Spyprogramm frei zu machen.

English Alert:
Spyware Alert!
Your computer is infected with spyware. It could damage your critical files or expose your private data on the Internet. Click here to register your copy of PcsSecure and remove spyware threats from your PC.

French Alert:
Spyware Alerte!
Votre ordinateur est infecté de spyware. Il pourrait endommager vos fichiers critiques ou exposer vos données prives sur 'Internet. Cliquez ici pour enregistrer votre copie de PcsSecure et enléver des menaces spyware de votre OP.

Italian Alert:
Spyware miniaccia!
Il suo computer è infetto di spyware. Puo dannegiare i suoi files criticali rivelare i suoi dati personali nell'Internet. Clicca qui per registrare la sua coppia di PcsSecure e rimouvere le minacce di spyware dal suo computer.
The Trojan will also display a fake Windows Security Center screen that will suggest that you purchase PcsSecure to protect yourself. PcsSecure will also hijack Internet Explorer so that it randomly displays a security warning when you browse the web. This security warning will state that the site you are visiting is infected or malicious and that you should purchase PcsSecure to protect yourself. Just like the scan results, these fake warnings and messages should be ignored as they are just another attempt to make you think your computer has a security problem.
As you can see, you should not purchase this program regardless of what it may state. If you have already purchased the program, then please contact your credit card company and dispute the charges. Finally, please use the guide below to remove this infection and any related malware for free.
Threat Classification:
Advanced information:
View PcsSecure files.
View PcsSecure Registry Information.

Entries for this program found in the Uninstall Programs control panel:
PcsSecure

Tools Needed for this fix:
Symptoms that may be in a HijackThis Log:
O4 - HKLM\..\Run: [PcsSecure] C:\Program Files\PcsSecure Software\PcsSecure\PcsSecure.exe -min
O4 - HKCU\..\Run: [<random>.exe] C:\WINDOWS\system32\<random>.exe

Guide Updates:
01/25/10 - Initial guide creation.
---
Automated Removal Instructions for PcsSecure using Malwarebytes Anti-Malware:
Print out these instructions as we will need to close every window that is open later in the fix.


Download Malwarebytes Anti-Malware, or MBAM, from the following location and save it to your desktop:

Malwarebytes Anti-Malware Download Link (Download page will open in a new window)




Once downloaded, close all programs and Windows on your computer, including this one.


Double-click on the icon on your desktop named mbam-setup.exe. This will start the installation of MBAM onto your computer.


When the installation begins, keep following the prompts in order to continue with the installation process. Do not make any changes to default settings and when the program has finished installing, make sure you leave both the Update Malwarebytes Anti-Malware and Launch Malwarebytes Anti-Malware checked. Then click on the Finish button.


MBAM will now automatically start and you will see a message stating that you should update the program before performing a scan. As MBAM will automatically update itself after the install, you can press the OK button to close that box and you will now be at the main program as shown below.






On the Scanner tab, make sure the the Perform full scan option is selected and then click on the Scan button to start scanning your computer for PcsSecure related files.


MBAM will now start scanning your computer for malware. This process can take quite a while, so we suggest you go and do something else and periodically check on the status of the scan. When MBAM is scanning it will look like the image below.






When the scan is finished a message box will appear as shown in the image below.




You should click on the OK button to close the message box and continue with the PcsSecure removal process.


You will now be back at the main Scanner screen. At this point you should click on the Show Results button.


A screen displaying all the malware that the program found will be shown as seen in the image below. Please note that the infections found may be different than what is shown in the image.





You should now click on the Remove Selected button to remove all the listed malware. MBAM will now delete all of the files and registry keys and add them to the programs quarantine. When removing the files, MBAM may require a reboot in order to remove some of them. If it displays a message stating that it needs to reboot, please allow it to do so. Once your computer has rebooted, and you are logged in, please continue with the rest of the steps.


When MBAM has finished removing the malware, it will open the scan log and display it in Notepad. Review the log as desired, and then close the Notepad window.


You can now exit the MBAM program.

Your computer should now be free of the PcsSecure program. If your current anti-virus solution let this infection through, you may want to consider purchasing the PRO version of Malwarebytes Anti-Malware to protect against these types of threats in the future.
If you are still having problems with your computer after completing these instructions, then please follow the steps outlined in the topic linked below:
Preparation Guide For Use Before Using Malware Removal Tools and Requesting Help
---
Associated PcsSecure Files:
c:\Documents and Settings\All Users\Desktop\PcsSecure.lnk
c:\Documents and Settings\All Users\Start Menu\Programs\PcsSecure
c:\Documents and Settings\All Users\Start Menu\Programs\PcsSecure\1 PcsSecure.lnk
c:\Documents and Settings\All Users\Start Menu\Programs\PcsSecure\2 Homepage.lnk
c:\Documents and Settings\All Users\Start Menu\Programs\PcsSecure\3 Uninstall.lnk
c:\Program Files\PcsSecure Software
c:\Program Files\PcsSecure Software\PcsSecure
c:\Program Files\PcsSecure Software\PcsSecure\PcsSecure.exe
c:\Program Files\PcsSecure Software\PcsSecure\uninstall.exe
c:\WINDOWS\10548h5c9tool4z5.exe
c:\WINDOWS\105z5troj199.cpl
c:\WINDOWS\11359not-z-9irus405.bin
c:\WINDOWS\system32\48fcthizf1950.cpl
c:\WINDOWS\system32\4943h9ckto5lz78.ocx
c:\WINDOWS\system32\49705hi9f896z.bin
c:\WINDOWS\system32\<random>.exe
Associated PcsSecure Windows Registry Information:
HKEY_CURRENT_USER\Software\PcsSecure
HKEY_LOCAL_MACHINE\SOFTWARE\Microsoft\Windows\CurrentVersion\Uninstall\PcsSecure
HKEY_LOCAL_MACHINE\SOFTWARE\PcsSecure
HKEY_CURRENT_USER\Software\Microsoft\Windows\CurrentVersion\Run "<random>.exe"
HKEY_LOCAL_MACHINE\SOFTWARE\Microsoft\Windows\CurrentVersion\Run "PcsSecure"
---
This is a self-help guide. Use at your own risk.
BleepingComputer.com can not be held responsible for problems that may occur by using this information. If you would like help with any of these fixes, you can ask for malware removal assistance in our Virus, Trojan, Spyware, and Malware Removal Logs forum.
If you have any questions about this self-help guide then please post those questions in our Am I infected? What do I do? and someone will help you.