How to see how much hard drive space is being used by Windows 8 apps
When you install apps in Windows 8 they take up space on your computer's hard drive. Then when you update your existing apps they can potentially take up even more storage space on your computer. With some apps being as large 512MB, and future ones possibly being even larger, your Windows 8 apps can eventually take up a large amount of hard drive space on your computer. Therefore, it is important to know how much storage space your apps use so that if you run out of room on your hard drive, you can detemine the apps that you wish to remove.
To view how much hard drive space each of your apps are using, type app size at the Windows 8 Start Screen. When the search results appear click on the Settings category as shown below.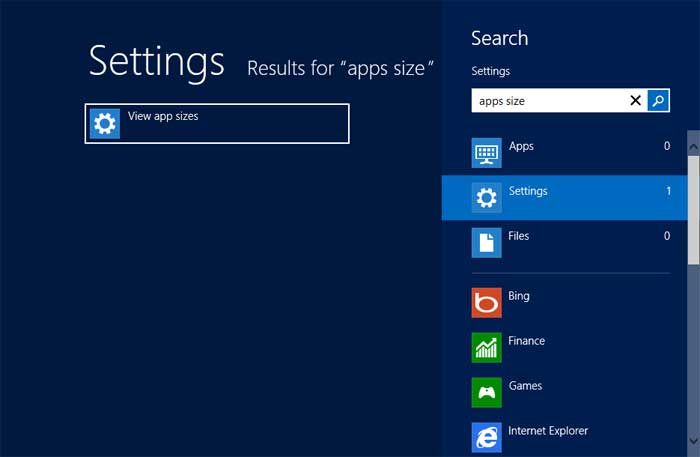 Now click on the option labeled View app sizes and you will be brought to the General PC Settings screen. Scroll down until you see an option labeled Available Storage Category.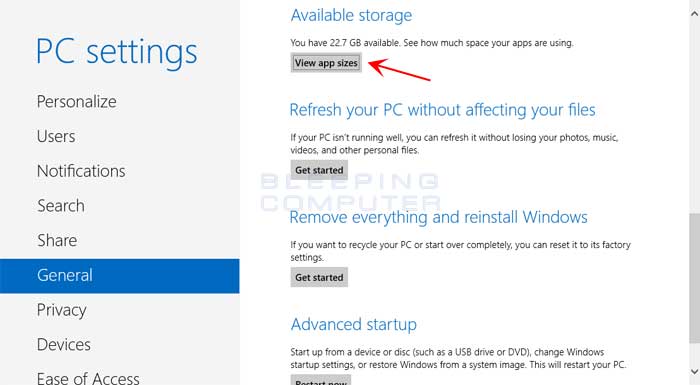 Then click on the View app sizes option as shown in the image above. This will open a screen that displays all the sizes of the apps installed on your computer as shown below.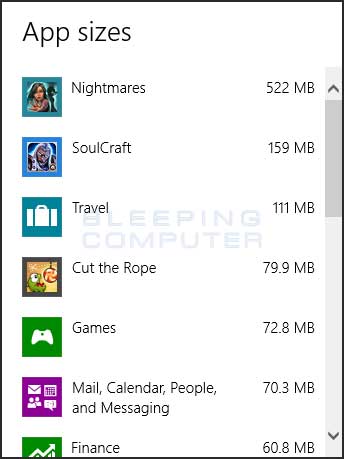 You can then scroll through the list of installed apps and see how much hard drive space each app is using. Using this information, you can uninstall Windows apps that you do not use in order to free up space on your hard drive.
If you have any questions regarding these steps, please ask us in the Windows 8 Forum.
Users who read this also read:
How to configure metered connections in Windows 8

As Windows 8 is designed to be used on mobile devices as well as desktop computers, it includes a feature called metered connections. A metered connection is a network connection where you have a limited amount of data usage per month and if you go over that amount you get billed extra charges. If you are using a network connection that has a limited data plan, then it is important to enable it as ...

How to reset your Windows Password using a Windows Password Reset Disk

If you have forgotten your Windows password and have previously created a Windows Password Reset Disk, you can use this disk to change your password to a new one. This will allow you to login to Windows again using the new password. This tutorial will walk you through the steps of resetting a Windows XP, Windows Vista, Windows 7, and Windows 8 password using a Password Reset Disk.

How to create a bootable USB Flash Recovery Drive in Windows 8

Windows 8 has the ability to create a bootable USB flash recovery drive that can be used to troubleshoot a Windows 8 computer that is unable to start. A recovery drive is the same as a startup repair disk, but instead of being on a CD/DVD it is on a bootable USB drive. Once you boot up a Windows 8 computer with a Recovery Drive you will have access to a variety of diagnostic and troubleshooting ...

How to use the Windows 8 Upgrade Assistant

The Windows 8 Upgrade Assistant is a program by Microsoft that allows you to quickly assess whether or not your computer is capable of running Windows 8 and then purchase it. It does this by scanning your computer and devices for any conflicts and then provides a summary of what applications or devices may not work properly or may prevent you from running Windows 8. If the program feels that your ...

How to create a Windows Password Reset Disk

Whenever you create a new account in Windows, you should create a password reset disk that allows you to reset your Windows account password if you forget it. If you have a lot of users and do not wish to create a reset disk for each one, then you should at least create one for the administrator account on that computer. You can then use that administrator account to change any other user's ...