How to change the Windows 8 Start screen background
Windows 8 allows you to customize the background and text color of the Start screen so that it is to your preferences. To change the Windows 8 Start screen background you should go to the 8 Start screen and type start screen. When the search results appear, click on the Settings category as shown below.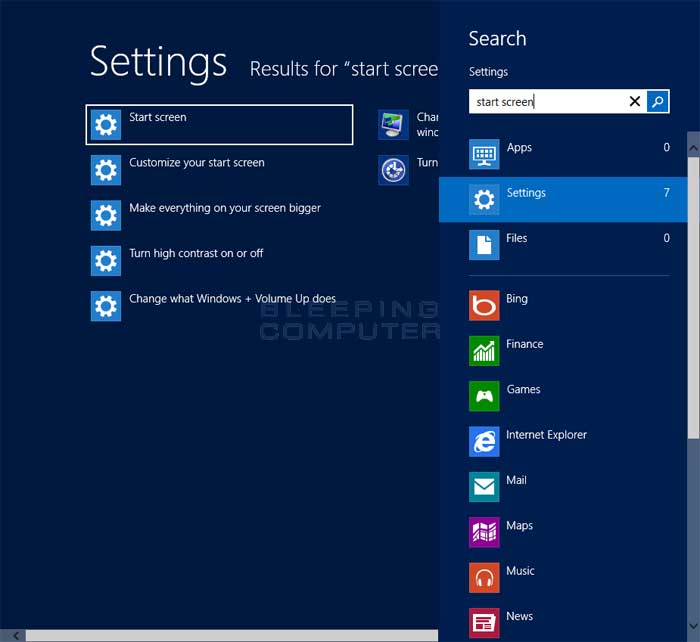 Now click on the option labeled Start screen and you will be brought to the Start Screen settings page. At the top of the page you will see your current Start screen background. Underneath it will be small square tiles that represent other backgrounds that you can use.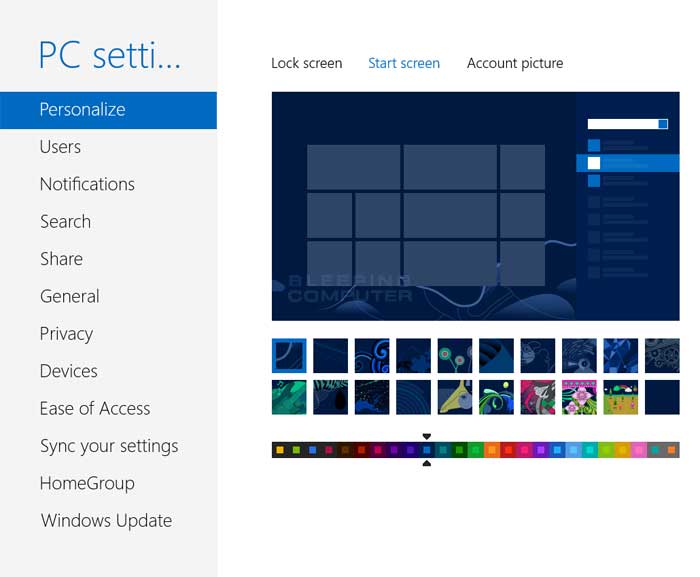 To use a new background, simply select the background you wish to use by left-clicking once on it. You can also change the color of the text shown on the Start screen by selecting a different color from the row of squares under the background choices. Once you have finished making your changes, simply click on the Windows key on your keyboard to get back to the Start screen where your changes will be in effect.
If you have any questions about this process, please ask in the Windows 8 Forum.
Users who read this also read:
How to change your account picture in Windows 8

In Windows 8 the account picture is an image associated with your account that is shown on the login screen and in the Start Screen. Unlike previous versions of Windows, Windows 8 does not include any built-in images that you can use as your account picture. Instead if you wish to change your account picture you need to select an existing picture from your computer or take one using an attached ...

Introduction to the Windows 8 Start Screen

Windows 8 comes with a new user interface called the Windows Start Screen that is the first thing you see when you login to Windows 8. This is the main interface that Windows 8 user's use to launch applications, search for files, and browse the web. This Start screen contain tiles that represent different programs that you can launch by clicking on the title. One of the features of this new ...

How to disable the ability to change the Windows 8 Start Screen background

In the event that you need to lock down the Windows 8 Start Screen background image or just do not want a user to have the ability to change it, you can disable it via a policy in the Group Policy Editor or via a Registry key.

How to access the Advanced Startup Options menu in Windows 8

The Advanced startup options menu allows you to specify various options for how you would like Windows 8 to start or to provide access to repair and diagnostic tools in the event that Windows is unable to start. In previous versions of Windows you were able to access the advanced startup options menu by clicking on the F8 key when Windows started. In Windows 8, though, they removed this capability ...

Introduction to the PC Settings screen in Windows 8

Windows 8 has a settings screen called PC Settings that allows you to change some basic preferences and computer settings directly in the Windows 8 Start Screen. This screen allow you to change settings that include backgrounds, colors, synchronization preferences, and synchronization preferences. This tutorial will explain how to access these PC Settings and provide basic information about what ...