How to change the name of a Microsoft Account in Windows 8
When you are logged into Windows 8, Windows will display your full name next to your account picture on the Start Screen. Normally you can use the User Accounts control panel to change the full name that is displayed for an account in Windows. If you are using a Microsoft Account in Windows 8, though, you will no longer be able to change your full name in Windows as it synchronizes it with the settings for your account on live.com. In order to change the name that is displayed for a Microsoft Account in Windows 8, you will instead need to logon to live.com and modify your name there.
For example, if I had created a Microsoft Account but misspelled my name as Lawrence Abras, my account would look like this in Windows 8.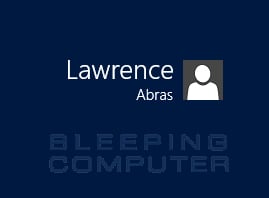 To change my account name so that it is using the correct spelling, you would need to do this at the account maintenance page of Live.com by going to this address:
https://account.live.com
Once you are at the above web page, enter your login information and you will be at the account summary page for your Microsoft account as shown below.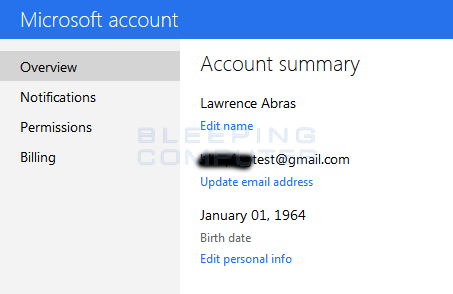 Click on the Edit name link and change your name to the correct spelling. When you are finished making the changes click on the Save button. You can now close the site and web browser.
Now reboot Windows 8 and login to the account whose name we just changed. Once you login, Windows should synchronize your name with the changes you just made and display it on the Start Screen.
If you find that your name is not being updated to the new display name, please be patient as it may take some time for Windows to synchronize the changes.
Users who read this also read:
How to rename the built-in Administrator account in Windows

The built-in Administrator account is one of the most targeted account names by malicious programs and hackers that are attempting to access your computer without your permission. It is therefore a wise security precaution to rename the Administrator account to another less common name so that it can no longer be targeted. By default, the Administrator account in Windows Vista, Windows 7, and ...

How to create a new user account in Windows 8

Windows 8 allows multiple users to share the same computer using different accounts. This allows each user to have their own location where they can store personal information such as documents, pictures, videos, saved games, and other files so that they are not mixed in with the files of other users on the same computer. Having multiple accounts also plays a strong role in Windows Security. It is ...

How to add Gmail to Windows 8 Mail

This tutorial will explain how to add Gmail to the Windows 8 Mail app. This tutorial will also walk you through troubleshooting issues you may encounter when using 2-step verification on your Google account.

How to switch between Local and Microsoft accounts in Windows 8

When creating accounts on Windows 8 you have the option to choose a Local account or a Microsoft account. A Microsoft account, formerly known as a Windows Live ID, is an account that has been registered with Microsoft so that you can use their online services such as Hotmail, SkyDrive, Calendar, or the Windows Store. In order to use most of these services and integrate them into Windows 8, you ...

How to change your account picture in Windows 8

In Windows 8 the account picture is an image associated with your account that is shown on the login screen and in the Start Screen. Unlike previous versions of Windows, Windows 8 does not include any built-in images that you can use as your account picture. Instead if you wish to change your account picture you need to select an existing picture from your computer or take one using an attached ...