How to change the name of your iPad, iPhone, iTouch, or iPod
When you set up your iPad, iPhone, iTouch, or iPod for the first time, you assign it a name. In the future, if you give the device to someone else or you just do not like the name anymore, you may want to change that name to something else. To change the name of your device, please follow these steps:
Connect your iPad or iPhone to your computer. Once connected, start iTunes and look for your device name under the Devices category as shown in the image below.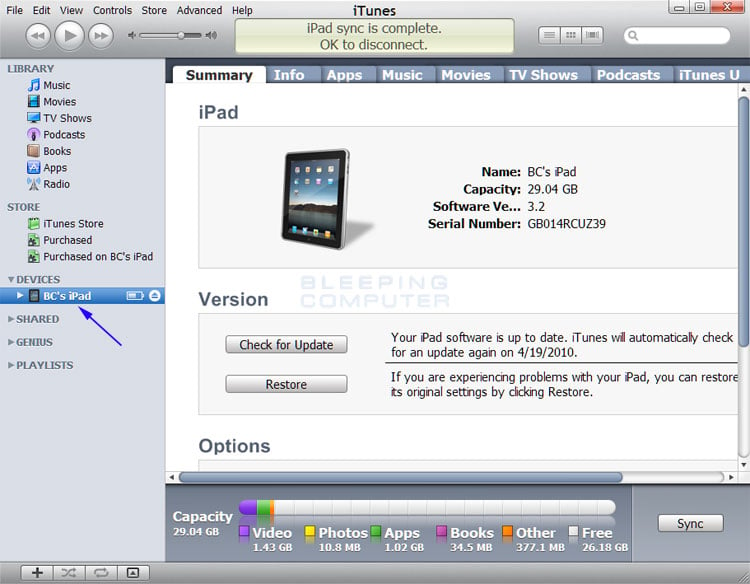 Finding the device name in iTunes
With your mouse, click on the device name and the name will change so that you can edit it as shown in the image below.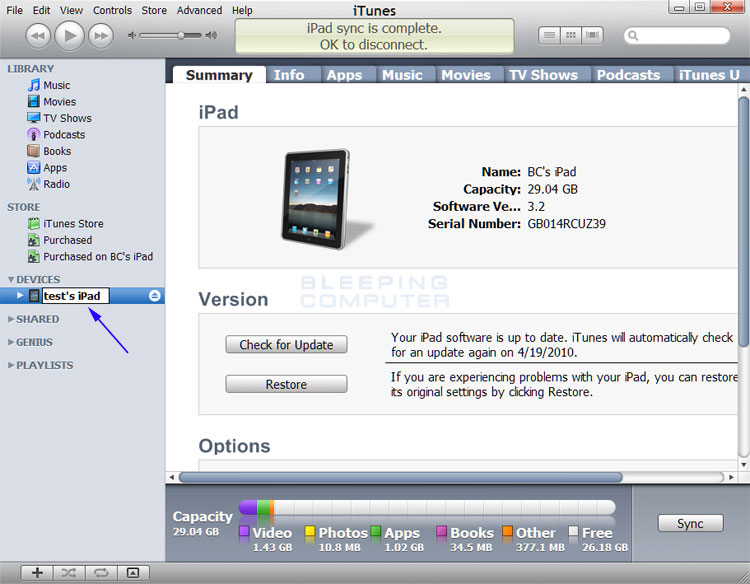 Changing the device name in iTunes
When the name is in edit mode, as shown above, type in the new device name that you want it to have and press Enter on your keyboard. Your iPad, iPhone, iTouch, or iPod has now been renamed to the name you typed in.
If you have any questions or need help with this procedure, please ask in our iPad and iPhone forum.
Users who read this also read:
How to uninstall or delete an app from an iPad or iPhone

To remove an app directly from your iPad, iTouch, or iPhone, press the icon on the device for the particular app you wish to delete until all of the icons on the screen start to wiggle. Once they are wiggling you will also see the symbol appear in the upper left-hand corner of each icon as shown in the image below.

How to connect an iPad to a Wireless or Wi-Fi network

The iPad is ultimately a device create to allow you consume content in an easy and portable manner. As there is no better location for consumable content than the Internet, being able to connect to a Wi-Fi network so you can access the Internet is a necessity. This guide will walk you through all of the steps required to connect to a Wi-Fi network using your iPad. We have also outlined steps that ...

How to take a Screenshot on the iPad and iPhone without a screenshot application

Have you ever seen those fancy screen shots of the iPad screens in various reviews and blog posts? Well, creating them is easy and does not require you to purchase or download any applications to create them. In fact, the iPad software includes a built-in ability to take a screen shot of any screen that you are currently viewing on the iPad and save it as an image that you can then transfer to ...

How to rearrange icons or move icons from one Home Screen to another on the iPad and iPhone

As you install new apps on your iPad or iPhone, the real estate on your home screen can quickly fill up or you may find that you want one home screen to be used for your most often used apps. Therefore it is important to know how to rearrange your icons and move them from one home screen to another.

How to turn your iPad into a digital picture frame

A nice feature of the iPad is its ability to also become a digital picture when it is locked. Due to the sharp and vibrant screen of the iPad this feature will turn the iPad into one of the nicest digital picture frames that I have ever seen. While the picture frame is active, the iPad will scroll through the available pictures and, by default, display them randomly.